Good day, friends! Today you will learn what a new trend in the world of fitness is – TRX training. For myself, I discovered this type of training relatively recently and was pleasantly surprised, because initially I was somewhat skeptical.

This type of training was invented in the USA, where it was successfully used for training fur seals in the absence of sports equipment. Sounds intriguing, right? This type of training quickly gained popularity due to its simplicity and functionality, so in this article I want to share with you information about what is in the end TRX, what muscles work, about exercise, the benefits and harms of these exercises and where without useful advice. Go!
What kind of training is it?
In itself, TRX is both the name of the workout and the name of the simulator. And let the fashionable foreign abbreviation three does not mislead you, because the design of this simulator is banal and simple.
The simulator consists of two elastic belts with rings at the ends. The ends of the belts are mounted on any surface, and you get a functional simulator to work on all the muscles of the body. Belts with loops are elastic and amenable to adjustment, which makes it possible to pull and pull, hang on them, do push-ups and pull-ups , but almost anything! Such simulators are very popular with skaters, football players and climbers.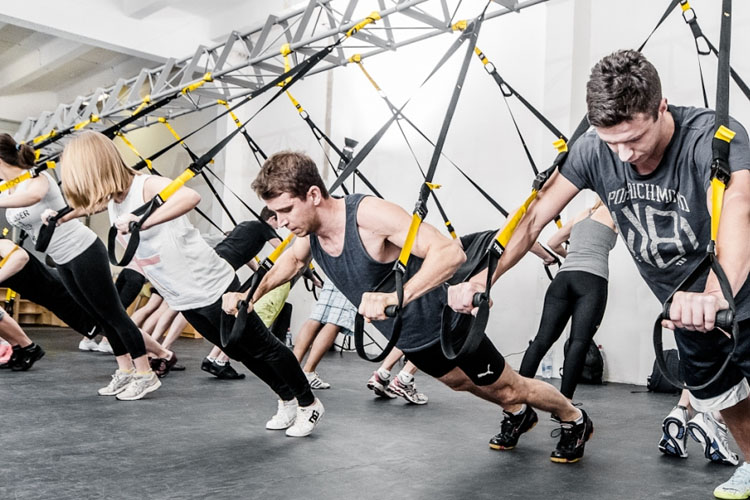 What muscles are pumped?
Almost everything. Depending on the exercise, you can emphasize the upper body, abdominals, thighs or buttocks, and the muscles in your arms or legs. The functionality is just awesome. Work comes with its own weight, sometimes in the literal sense.
This type of training is very useful for the core muscles and the entire muscular system as a whole . In addition, according to my personal feelings, coordination, endurance, and muscle flexibility are improved. First of all, the body learns to cope with a constant static load.
Advantages and disadvantages
Let's start with the advantages, because there are a lot of them:
The simulator is universal. TRX can be practiced both for beginners and professionals. You can always choose a set of exercises for weight loss , the development of strength, endurance of muscles, or cardio. Fits well in circuit training (simulator is always free).
Easy to use and mobility. The exercise technique is simple, and the composition of the simulator is even simpler. If you have a wall, ceiling or doorways at home – it will suit you. And if suddenly it was not, then throw the simulator in the bag (it almost does not take up space) and go to work out on the street!
Work with its own weight. There is no need for heavy iron and expensive simulators. It is possible to get injured during the course of classes only if we are going over with loads. Because of this, this type of training is well suited for girls and women.
This is useful. Not so much exercise can be done to strengthen the deep stabilizers of the back and spine, in particular. Properly selected exercises will help patients with diseases of the spine and joints, in particular with intervertebral hernia and diseases of the musculoskeletal system.
Now let's move on to the minuses of this type of training:
The cost of the simulator. Now decide for yourself, I do not think this is a serious drawback compared to the functionality of the equipment.
It will not work with the burdens. Men – lovers of heavy metal can now indulgently chuckle, but I myself watched how these lovers after 30 minutes of work in limbo safely changed their minds.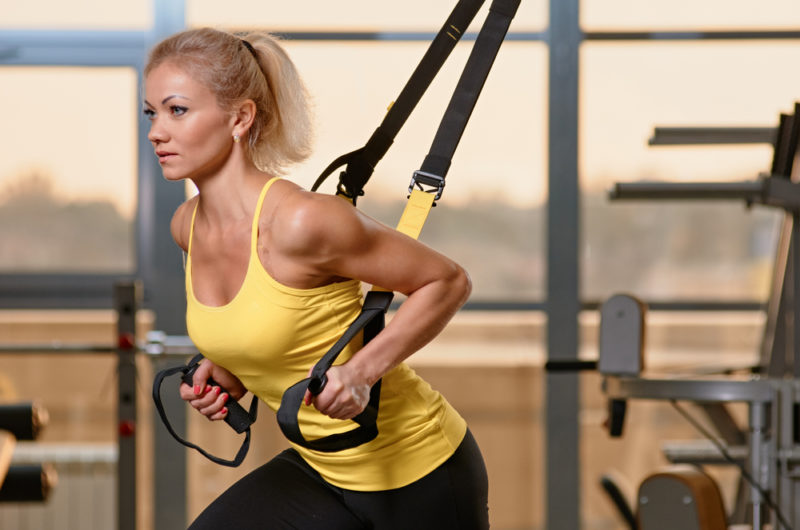 Contraindications
The main contraindications are serious back problems, injuries or problems with the cardiovascular system. Before training, be sure to consult with your doctor.
Technique and types of exercises
Below I gave a list of exercises for the main muscle groups and briefly described the technique:
Squats. In the standing position, we grasp the loop and crouch, spreading our arms to the side. The main load should fall on the shoulder girdle.
For hands. We run into the loops at an angle and alternately draw our hands to the sides. In addition to strengthening the muscles of the arms, exercise helps to improve coordination of movements.
Squatting on one leg. In a position at a small angle, we alternately perform squats on different legs or several times on one to increase the load; Strengthens the hips and buttocks.
Push ups. At an angle, we rest against the rings and make push-ups. Unlike conventional push-ups, the TRX version uses much more muscle groups.
Pull-ups with a turn. Accept the horizontal position, feet abut the floor. Then we catch up on the rings, alternately turning the body.
Strap. We occupy a horizontal position: hands to the floor, feet to the rings. You can complicate the exercise lunges on the arms, wiring legs to the side or pushups.
Tightening the knees. In the same position as in the plank, tighten your knees to your chest. Good exercise for the press.
This list is not all that can be performed with the help of TRX. Whatever goal you set, whether it is strength training, endurance or getting rid of calories – you can find a suitable exercise.
Sample Workout Program
There is no fundamental difference in whether you will exercise at home or in the gym. The main thing is that there is enough space and oxygen, plus it would be nice to have a mirror to monitor the execution technique. A positive aspect of training in the hall can be called group classes, where you can understand how to do the movements or trainings with a trainer who will help you choose the right exercises and set up the technique.

Here is an example of a plan for a standard circular TRX workout for beginners:
Warm up – 5 minutes.
Squatting on one leg – 30 seconds.
Breeding hands in a squat – 15 seconds.
Pushups – 20 seconds.
Pull-ups with a twist – 20 seconds.
Pulling up the knees – 20 seconds.
The bar is 30 seconds.
Repeat.
The number of circles is selected individually based on your age, fitness and endurance.
Training Tips

Warm up
Warm up as best you can, do not rush to get to exercise. Try to stretch well and warm up. Neglecting a warm-up is a direct path to injury.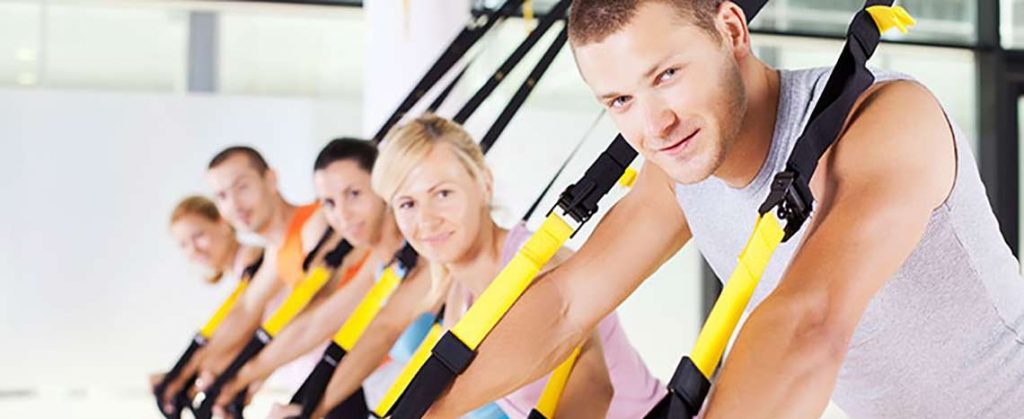 You can do the exercises for a while (as I do) or count repetitions and approaches. Their number depends on your preparation, so try a simple option and complicate as you get used to.
How often to engage
Though every day, the main thing is not to overdo it. Over time, your body will get used to the loads, so try to please him with a variety of workouts. If you focus on a specific muscle group, then pump it at least 3 times a week.

Training duration
The average duration will be about 40 minutes. If you feel that you want and most importantly can do more, then try. But do not drive yourself, the body will not thank you.
What time is better to do

Occupation time for each individual. Someone more comfortable to do in the morning, someone in the evening. For me personally, classes in the evening go much better. In addition, no one forbids training 2 times a day, the main thing is to distribute the load correctly.
Nutrition and sports supplements
The composition of nutrition depends on the goal that you set for yourself. If you want to lose weight – eat less carbohydrates and fats, more protein. If you want to build muscle, combine protein, carbohydrates and fats in the following proportion 3/2 / 0.5. Try to exclude fast carbohydrates (sweet and fat) and eat more complex (cereals, cereals).
The use of sports supplements does not matter, but personally I have nothing against protein, creatine and fat burners. But practice shows that good results can be achieved without additives.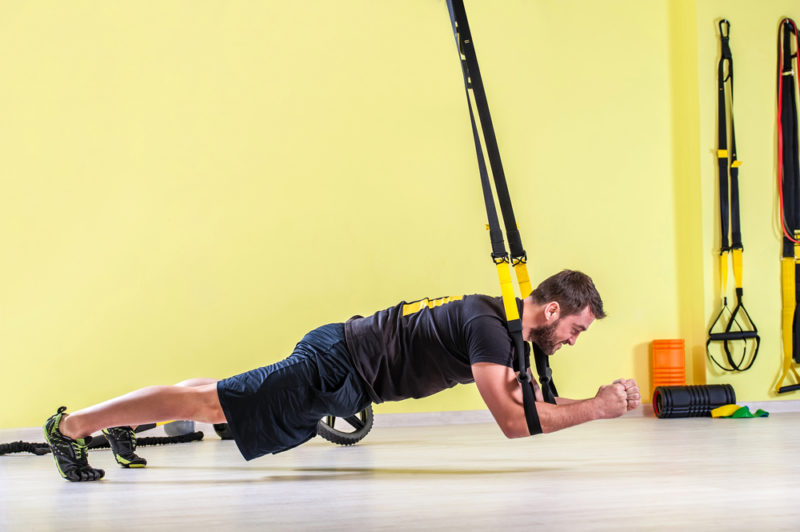 Frequent mistakes
Wrong technique. Error number one for all exercises. You have nowhere to rush, understand how the exercise works, feel your body, and do not chase after repetitions.
If you feel that you can not perform the exercise – make sure you do it correctly, and then experiment with variations and loads.
Drink more water. If you feel dizzy, dry mouth and weakness – these are clear signs of dehydration;
Watch your breathing, proper breathing is the key to a successful workout.
Try to use different variations of exercises, this will increase the effectiveness of the training.
Do a good stretch, stretch your muscles and warm up properly.
Conclusion

This concludes this article on TRX training. I strongly advise you to try – everyone will discover something new. I hope that the information was useful to you. If you want to get more interesting information about training, subscribe to updates and share information in the social. networks. All successful training!